If you have a garden of your own, belong to a co-op, or shop at farmers' markets, you are probably used to getting a mid-to-late summer surge of vegetables like cucumbers, green beans, squash, and zucchini. A bumper crop doesn't have to be a burden, though. Try making refrigerator pickles to keep the fresh, nutritious produce around longer.
Refrigerator pickles couldn't be easier to make. There is none of the hassle of special pots, seals, jars, and the stress and uncertainty that goes along with traditional canning. Making refrigerator pickles keeps your surplus veggies nicely in your fridge for months, allowing you to eat healthy well beyond the growing season. Here we explain how to make refrigerator pickles and take a look at a couple of recipes that you'll want to try right away.
The Basics:
Essentially, refrigerator pickling is adding vinegar and salt to pretty much any vegetable—not just pickling cucumbers—and refrigerating the mixture. This form of preservation can last months without going bad. Because of this, you can reap the health benefits of the local vegetables you love for more of the year.
Recipes:
Bread and Butter Pickles: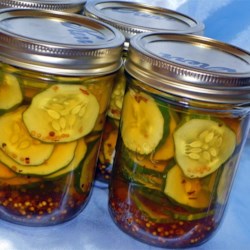 Better than any pickle you can find at the store, these sweet slices make any picnic or barbeque complete. Good on a burger, or just by themselves, you won't be sorry you made bread and butter pickles.


Refrigerator Dills:
Impress yourself with your own take on the classic dill pickle. Another benefit to making these, or any refrigerator pickle is that you know exactly goes into the recipe. For this one, you'll love how simple and wholesome the ingredients are.

Mixed vegetables in a jar:
This recipe is a real crowd pleaser, and for good reason. By combining a myriad of vegetables, you are getting a well-balanced vegetable side in every jar you make.
CATEGORIES:
Diabetes
,
Recipes
,
Healthy Foods
,
Vegan
,
Vegetarian